Technical catalogs
From Opera Wiki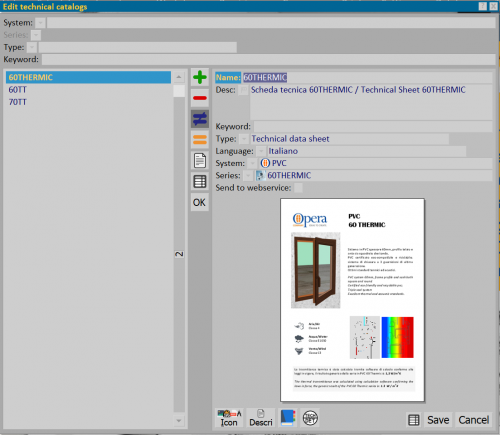 N.B:
To access this window into Opera Job Management: from menu
Archives
, select the botton
System
and push


This window lets you to add technical catalogues or technical data sheet, they are divided into System and Series.
Section 1: Filters
The first section contains fields that filter the catalogues and tabs already recorded:
System/Series: it shows only catalogues and tabs for System and Series selected
Type: it dispalys selected document from a drop-down menu (Catalogues or technical data sheet)
Keyword: it lets you to filter documents according to matched Keyword.
Section 2: Action buttons
Button lets you to dispaly attachments linked to the document already added.
Button you can export the documents taking parts of technical catalogue archives in excel sheet.
Section 3: document data
Name/Desc.: we point at Catalogue name or tecnichal tab and the description.
Keyword: it lets you to match a research key, it is useful in the filter fileds, in the case of many documents registered in the archive.
Type: in this field you have to indicate type of document which you want to link to the system and series.
Language: you can select the language of the document.
System/Series: they are fields refering to the selection of system and series.
Send on webservice: this field is activated with the purchase of the Orchestra step for on line quotations and it allows to send the selected document on web.
Section 4: Function buttons
Button opens the box of icon management related to technical catalogue or tab.
Button opens the box for manager catalogue of each chapter and access to pages of more interest
Button opens the box for entering of catalogue description of a tab.