Job lines
From Opera Wiki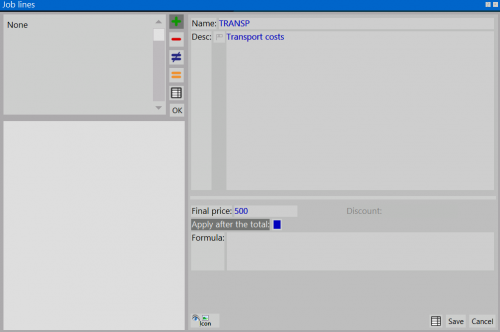 N.B:
This framework can be reached by
Jobs
menu, selecting "Job Lines"
In this framework we can record all job lines with the relative price, which may be included in the job.
Content description
Name: field for the name of the jobline
Desc.:: description of the jobline
Final price: field for the price
Discount: field for the discount. The voice is disabled if we select the next field Apply after the total .
Appliy after the total: the selection of this field will make sure that the job line is printed in the order after the total ]]
Formula (available since 3.8.1): after filling in this field the job line price will be determined by means of a formula that applies the calculation to the total if I use "T" or to the type number if I use "N". (available from version 3.8.1)
The button allows the addition of an image to the job line.