Inventory
From Opera Wiki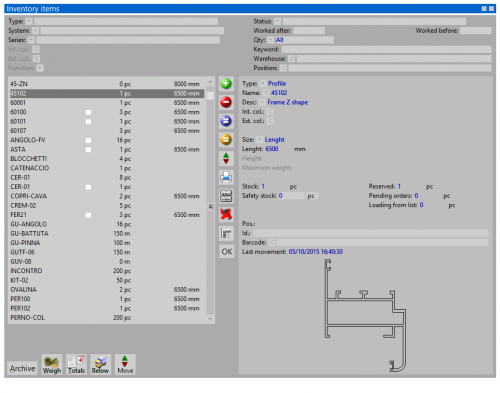 N.B:
To access this window from Opera Job Management: open
Inventory
menu, then select
Inventory items

Inventory management in opera allows to perfom multiple tasks, such as warehouse inventory, stock quantity checks, minimum stock levels, ordered and reserved bars, and handles leftovers, assigning a unique code for each piece. A complete history of documents and operations regarding each item is stored for a complete control of inventory. Let's take a detailed look at the form fields

Content description
Top filter
Status: items are filtered according to the selected item from the list (below safety stock/reserved / ordered)
Worked after / Worked before : these fields allow to select a specific timeframe for the displayed inventory items
Qty : this will filter items according to the current stock quantity. Available choices are (All/Qty>0/Negatives/Qty=0/Empty)
Keyword: filters the stock items by keyword, if the archive profiles and accessories is a search key set. The key selection field in the top section shows the list of search keys set for the articles in its archives, as in the example picture.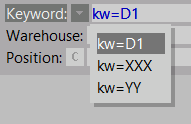 Warehouse/Position: filters the stock items by the position in a specific warehouse
Buttons
: this button will display warehouse movement for the selected item
: shows the inventory labels
NOTE:

This button is available only with

Inventory Barcode

step
: enables barcode reading for stock items.
NOTE:

This button is available only with

Inventory Barcode

step
: export to excel current list content
Bottom list section
: a direct link to the item in archive. You can access archive data without closing inventory
Main content
Type : the item type. It can be Profile, Accessory, Other. Many form fields are automatically set according to this type
Name : The item code. Clicking on the C button, you can pick up the item from the archive
Desc: the description of the item. This field is automatically imported from archive, after selecting item's code
Int. col. / Ext. col. / Color : Internal/External color of item. For profile type, both fields will be available, otherwise you can set only one of them
Size: the dimension type assigned to the inventory item (piece/lenght/weight/surface)

NOTE:
choosing the right size type is a key value for a correct stock management. If the item is a profile, its size type will be
length
, and its stock quantity in
pieces
.
If you are working with an accessory (i.e a gasket), you can either choose pieces as size type or length if you buy the item per meter/inches
Stock: displays the current item quantity, according to its dimension and unit of measurement
Reserved: displays the item quantity currently on hold. This will grant you not to use items already needed for other jobs
Parts ordered: displays pending orders for this item. This is updated according to the order documents in warehouse
Loading from list: displays the quantity to be added from a pending loading/optimization list

NOTE:
these fields are automatically updated on every inventory operation on the item
Safety stock: The minimum item quantity to keep always in inventory. For example, if you wish to keep at least one box of hinges, you should fill this field to the number of pieces per box.
Pos. (position): the item position in warehouse
Id.: a id code for the inventory item, if needed
Barcode: each item could have one or more barcodes, used to identify quantity (ie: single piece, box)
Last movement: this read-only field displays last movement date involving the current item