How to create a new profile
From Opera Wiki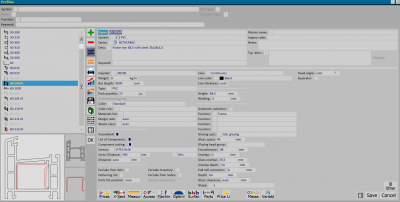 N.B:
To open this dialog in OperaJM: from menù
Archives
click on submenu
Profiles

N.B:
In order to speed up cretion process, please follow the instructions as reported below.
Click on to start editing a new profile.
Insert profile technical code in field Name.
Press to set System and Series for the profile. (N.B.: series list will be enabled only after selecting a system)
Add profile description in field (Desc.:).
Complete adding technical data of the profile Profiles
Press to save
Now that main profile data has been set, you can now add Prices, link Accessories, or set Machinings
How to set profile prices
Press

button to edit profile, and then press

. Profile prices window will open:

Click on

to add a new price and choose a profile finish or internal/external color according to how you wish to manage pricing. Choose pricing type from Price type field: the example shows per length finished, but you can choose from a wide range: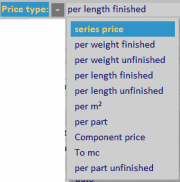 Now you can set the price in Pr#1 field and then save with

button. Repeat previous steps to add more prices for the profile, or press

to exit.
How to link accessories to a profile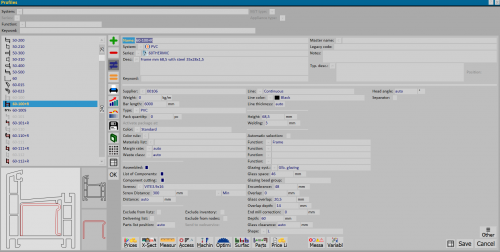 Press

button to edit profile, and then press

. Default accessories window will open:
Click on

to add a new price. Pressing
in Accessoy field will open Accessory function menù, used for a quick selection of the accessory: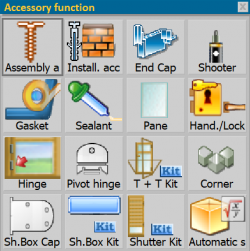 Select desired function and a filtered list will be displayed. Choose an accessory and press

to confirm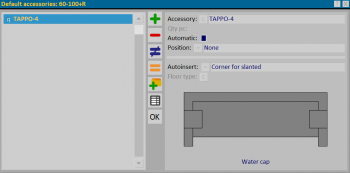 The accessory is now linked to the profile You can now choose a quantity (if left blank the quantity will be automatic) and set the accessory insert type. Click Save e

to quit to main menù
Related pages