Backup copies
From Opera Wiki

N.B:
To access this window from Opera Job Management: open
Options
menu, then select
Backup copies
This function is necessary to make backup copies We strongly suggest making backup copies at least once a day to avoid the unrecoverable loss of data (profiles, typologies, work orders...). The loss of data can be caused by a sudden breakdown of the computer, or by a virus program that has unrecoverably damaged the data, or by a fault to the hard disk, or by other reasons. In all of these cases, the data cannot be recovered without the backup copies and therefore it is not possible to start work again. On the contrary, with backup copies, it would just be a matter of restoring them on the hardware in order to begin work again.
When this function is started, the following message will appear:

External

: Clicking this button will execute the copy on external folder. You should set your preferred backup path (network folder/usb drive) in Directories, first.
Local

: Clicking this button will execute backup in the default folder. (OPERA\BACKUP)
E-mail

: Clicking this button will Open a new dialog that allows you to configure an email with your backup as attachment. This function is very useful in cases where you need to send your files to the assistance centre at the Opera Company.
CD ROM

: clicking this button will open File selection window, where the user can choose whether to save the whole archive or select only some files. To disable the files which are not to be saved the user has to select the field and clicking with the mouse or the space bar. Disabled items will turn into grey test. To reactivate follows the same procedures.After selecting the archives, press

to start the burning process
File

: saves a backup to the selected file on disc.
Cloud

: this will execute a backup copy on your assigned remote repository
Archive selection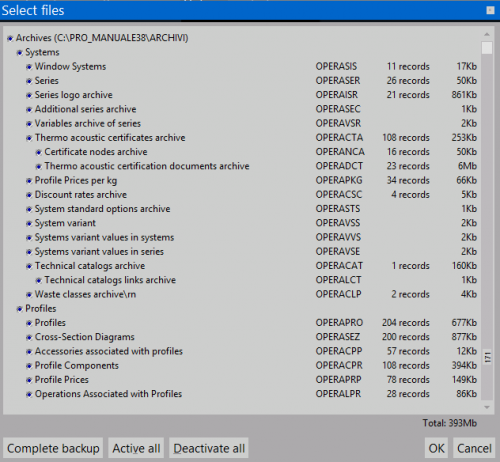 : Copies all archives.

: Activates all items in the archive list

: Deactivate all items in the archive list
Clicking an item with the mouse or clicking on spacebar will activate/deactivate the selected item. This will allow to create customized backups, including only a subset of files from your archive