Accessories
From Opera Wiki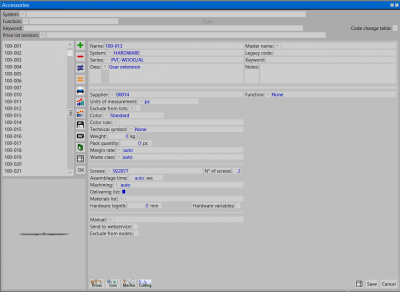 N.B:
To access this window from Opera Job Management: open
Archives
menu, then select
Accessories

This is the storage database of the accessories' technical data. By them the program is able to calculate the application spot, the quantity, the prices.
Content description
NOTE:

Obviously it is possible to print only a group of accessories. Please remember that, as indicated in the picture, the selection boxes explained in The interface section, will let you set the parameters to select only a certain type of records. This is useful, for example, if you want to print only the accessories belonging to a certain make, or for a certain use (corners, locks,...).

choosing Percentage allows user to edit all prices by a percentage variation.
choosing List opens a .csv file in which all accessories are reported along with their prices. It is possibile then to edit each single price item. after saving the file, a report will popup. Pressing will save all changes to the archive
NOTE:

According to the set use, a few fields will appear that will show the technical data of the accessory. The program will consider this data during the profile cut calculations and the quantity calculations.