How to create inventory documents
From Opera Wiki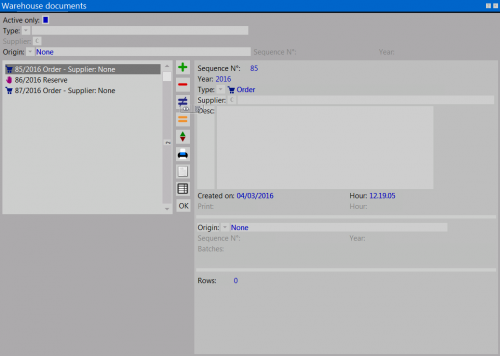 N.B:
To access this window from Opera Job Management: open
Inventory
menu, then select
Documents

This dialog is used to manually inventory documents. The document has its own symbol for a quick recognition and you will be able to print it and check all its movements.
How to save a new document
Click on button to add a new document.
Sequence n°: order number. This is automatically assigned
Year: the year of the document
Description: a description for the new document
Created on / Hour: creation date and time for the document
Printed on/ Hour: printing date and time for the document
Origin: the source to which the document is linked to (none/safety stock restore/job/grouping). If job/grouping is selected, you have to select sequence number and id
Rows: number of entries is the document.
The Inventory document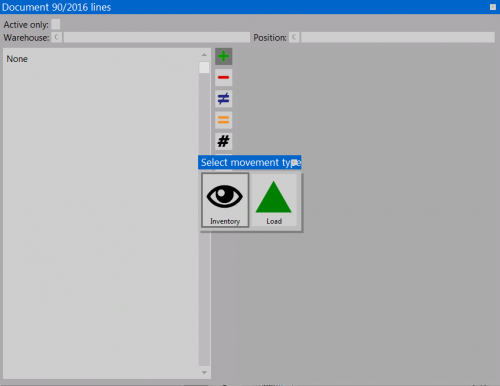 Just after opening this dialog, you will be asked to choose which type of movement to add. In this case, we choose an inventory document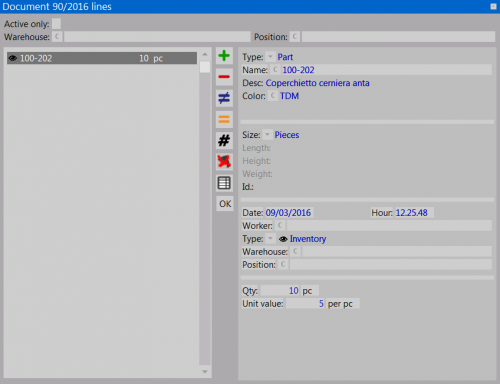 Type: the type of the item to add (profile/accessory/other)
Name: the item name. Pressing allow to select an existing item from inventory
Description: the description of the item
IntCol – ExtCol: the color of the item added
Size: the dimension type of the item (lenght/pieces…)
Length/Height/Weight: if any of these is available in archive, it will be imported
Id: item ID
Date/Hour: Insert date of the item in the document
Operator: user involved in the operation on this document
Type: displays the usage type of the document (load/unload/inventory/reservation/leftover)
Warehouse/position: used to link the entry in the document to the actual item in warehouse
Qty: the item quantity involved in this movement
Unit valuee: used to set the value of a single item unit
Once you finished adding items, you can print inventory document
Related articles